Looking for Halloween pumpkin carving ideas for the whole family to help out with this year's Halloween pumpkin? We've got the best pumpkin carving ideas for you and your family this Halloween. We've got Halloween pumpkin ideas that range from easy pumpkin carving ideas to no-carve pumpkin ideas.
If you've ever stared at your final carved pumpkin and wondered what you thought you were going to create, you're not alone! Sometimes, easy pumpkin carving is the way to go because you'll feel successful with your finished product.
This list of 10 Simple Pumpkin Carving Ideas will help you plan your Halloween Pumpkin Carving Ideas in no time!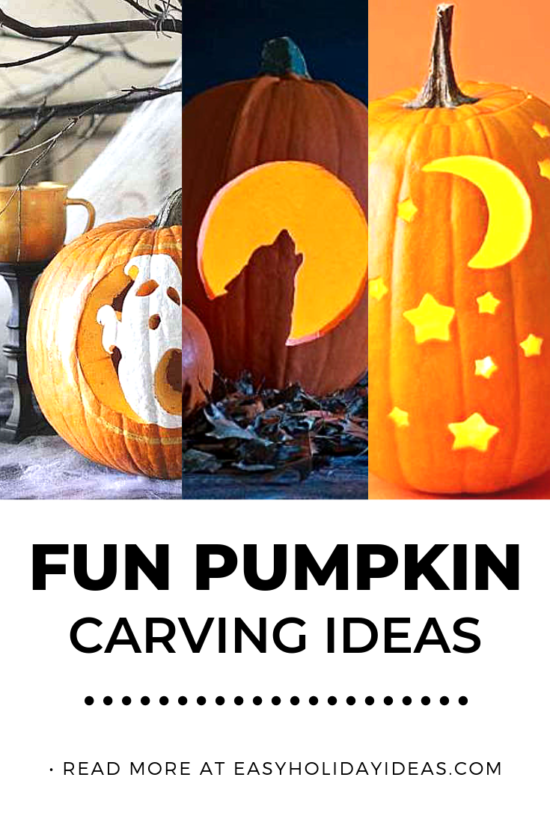 Photo Credit: www.womansday.com
Is it possible for a mummy to be cute?
Photo Credit: www.thegardenglove.com
There are so many pumpkin carving ideas that you can do with a drill!
Photo Credit: www.ajoyfulriot.com
Who says Halloween pumpkins need to be ghoulish? 
Photo Credit: www.dreamalittlebigger.com
No carve pumpkins are a great way to decorate for fall or Halloween with less mess and no sharp knives needed.
Photo Credit: www.organizedchaosonline.com
Creepy or cute?!  This darling carving takes time but is worth it!
Photo Credit: www.thepinningmama.com
Combine carving and painting so the whole family can participate!
Photo Credit: www.bhg.com
With a little muscle, you can carve perfect shapes into your pumpkin by using cookie cutters.
Photo Credit: www.bhg.com
These adorable monster pumpkins will stretch your creativity beyond simple carving this year.  The site provides the simple templates!
Photo Credit: funmoneymom.com
Made with $1 styrofoam pumpkins, they're not only fun to make, they're inexpensive too.
Photo Credit: www.hgtv.com
These simple pumpkin carving patterns are designed specifically for beginning pumpkin carvers.
You don't have to attempt intricate pumpkin designs to have a very unique carved pumpkin design this year. There are so many easy pumpkin carving ideas here and they're all family friendly!