Whether your kids are entering Preschool or Eighth Grade and beyond, their teachers will always appreciate first day of school teacher gifts.
These back to school teacher gifts are easy ideas that won't take a ton of time during this busy season. Thoughtful teacher gifts don't have to be complicated, fancy, or expensive. They're a gift from the heart that any teacher will appreciate!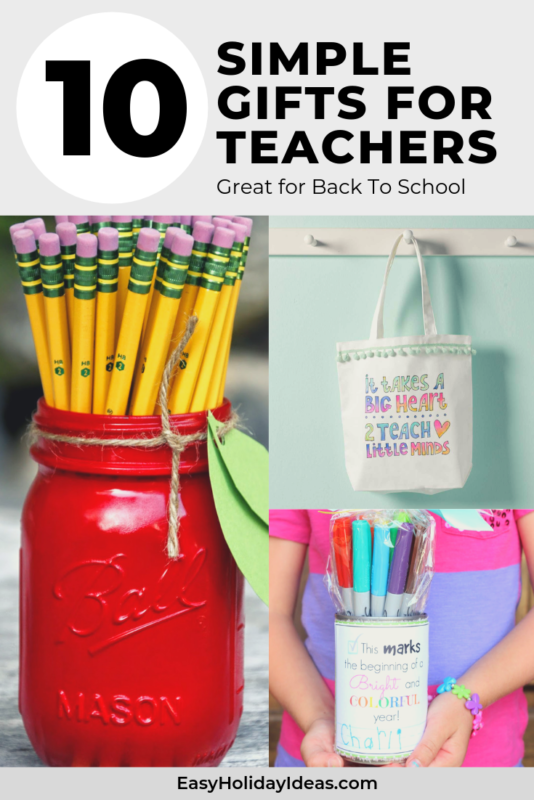 An encouraging word, note, or small gift means quite a bit at the start of a new year at school for teachers.
Even if your kids have already started back, they can still give their teacher something special just to let them know that we really appreciate all they do for us.
Since teachers are such an important part of kid's lives and spend so much time with them, making a DIY gift is the perfect way to start on the right path.
Because the first week of school can be overwhelming, it's nice to send in a little something to let them know they're appreciated. A DIY back to school teacher gift doesn't have to be expensive or take a ton of time to make and your new teacher will truly appreciate the thought behind it.
Check out these other GIFT IDEAS and don't forget to get your FIRST DAY OF SCHOOL signs ready to go.
We also love these PRINTABLE TEACHER GIFT CARD HOLDERS that you can use throughout the school year. So many great First Day Of School teacher gifts that your teacher will love!