Do Your Own Halloween Makeup for This Year's Costume
Looking for the most ghoulish and scary Halloween Makeup Ideas for your Halloween Costume this year? We've found 10 makeup tutorials that will get your DIY Halloween Costume award ready!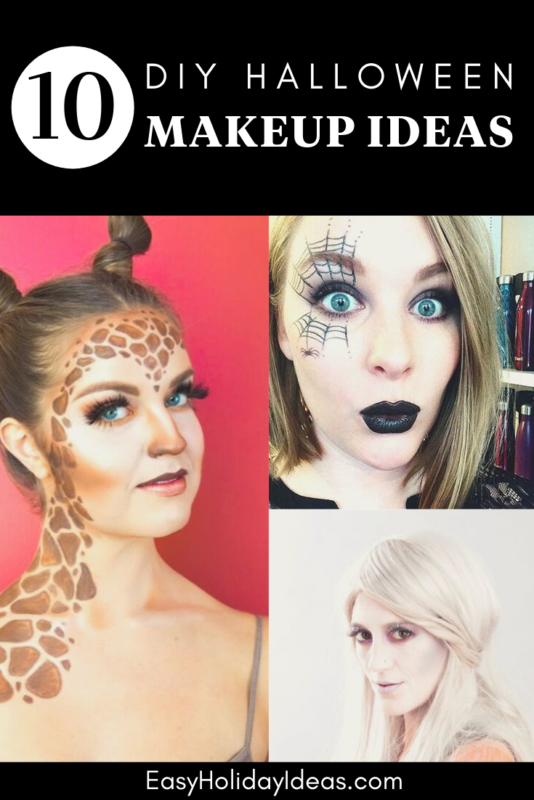 Once you've figured out some costume ideas, you'll be ready to add makeup to your face to really pull in the whole theme. Whether you're wanting to paint your face to be a sugar skull, or add body paint all over for a crazy costume, your halloween party won't be complete without full face makeup to complete your costume.
Photo Credit: Nicole Renard
Looking for a little guidance on how to master this freakin' awesome giraffe look?  Check out the You Tube tutorial and make it your self!
Photo Credit: stylebycat.blogspot.com
This simple Monarch Butterfly makeup is beautiful and would make a great costume all on its own.
Photo Credit: www.society19.com
Over the years pop art makeup has become a massive favorite for Halloween. This can be a bit more complicated than the others but it's stunning!
Photo Credit: https://www.instagram.com/amaterasubeauty/
You can even add in the little spider too. It is a fun, simple and last-minute makeup idea. No tutorial, but check out Amaterasu Beauty on Instagram for the idea.
Photo Credit: blog.freepeople.com
In her video, Shannon uses a lot of different products, and she'll tell you which one she's using, step-by-step. The key here is technique, and learning the steps you take to create the perfect porcelain doll makeup look. 
Photo Credit: www.brit.co
Love this gorgeous take on the most classic Halloween character, the witch!
Photo Credit: www.thewonderforest.com
A simple makeup tutorial video - and then you can whip up some felt ears and attach them to a headband to finish off this look.
Photo Credit: www.brit.co
A classic Halloween character and year-round symbol of all things spooky and scary is the ghost! Instead of going gory and gruesome, go for a more beautiful ghostly look that still has a spook factor. 
Photo Credit: laurenconrad.com
Inspired by Roy Lichtenstein's pop art - this tutorial makes it very easy to do yourself.
Whether you're looking for expert halloween makeup tutorials or easy halloween makeup, this list will help you top off your costume (and you will certainly win awards with these ideas!)
Want to be an animal this year? Don't miss these 15 DIY Animal Makeup Tutorials that Tip Junkie shares and if you're a family dressing up together, you'll love these Family Halloween Costumes.
If you wait until the last minute to put together your costume, there are many step-by-step Halloween makeup tutorials that you can create with products that you already have in your medicine cabinet. All of the ideas on this list are easy enough for makeup beginners to follow, so don't fret! Once you get the foundation down, craft the rest of your party look with one of these simple DIY Halloween group of 3 costume ideas.