Making Your Own Scarf Doesn't Have To Be Hard. These Tutorials Make It Very Simple And Quick.
The cold is on its way, and more often than not, you start wearing scarves well before winter hits. "Scarf Style" is not a real thing, and not called that in the dictionary, but if you're like me, you can't wait to throw on some jeans, a t-shirt, and your favorite scarf.
Scarves are both practical and stylish and they can be a great accessory to any outfit, and are easy and comfortable to wear. Need an easy sewing project that is perfect for a beginner? Making an infinity scarf is one of the simplest projects you could start with in your sewing journey!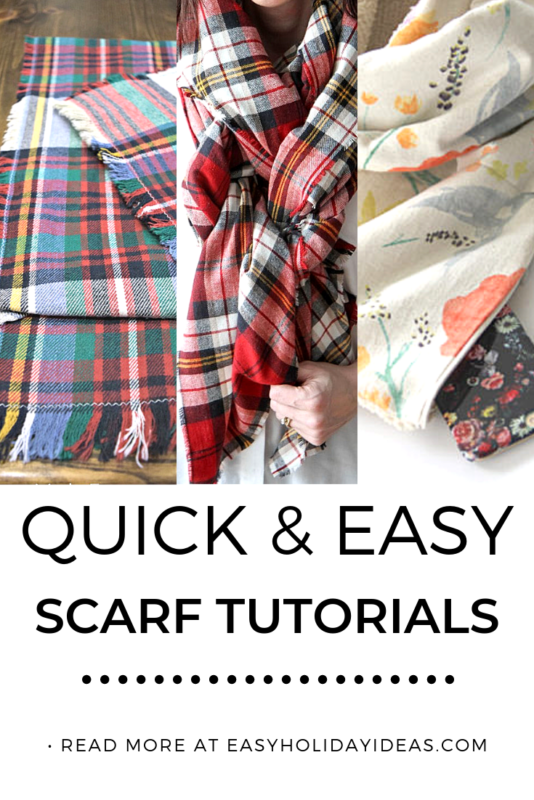 How to Make Your Own Scarf
We're here to share 10 handmade scarf tutorials with you that will make great gifts for your friends and family. They're all so easy to make, so you can some for yourself, neighbors, and family members. Once you know how to make a scarf, you'll be making everyone in your family their own this holiday season!
Making your own scarf doesn't have to be hard or time consuming, and it certainly doesn't need to cost a ton of money. Additionally, you can make a scarf in just a few steps. Some of these tutorials are even no sew, which is even better for beginners.
Why should you make vs. buy?
You can choose your own fabric prints. When scarves are handmade you get to pick complementary patterns and match the style and color patterns you want.
You can design your own scarves. Want pom poms? You can add pom poms! Want fringe? Find a way to add fringe!
You can decide how many inches long you'd like it to be. Some of us are shorter – amiright? Having a 6′ long scarf is tough to tie up when you're short!
You can stay on budget. Scarves can be so expensive! I once found a blanket scarf that I fell in love with and it was $89. I was able to make my own for half that AND I got the fabric that was even more perfect for my needs!
You can own as many scarves as you'd like! The infinity scarf is the most simple design to make, and so by making your own, you can own them in every color/pattern/blend that you want. Fill that closet!
So many great reasons to make your own scarves, there's really no reason to wait! Make them now and have them ready to go this holiday gifting season!
If you're the ultimate DIY Gift maker, you'll also want to get some more gift ideas that are perfect for any season.
And, if you're up for a challenge, this KIMONO CARDIGAN from a SCARF tutorial is one of our favorites!